01.06.2015 | Ausgabe 4/2015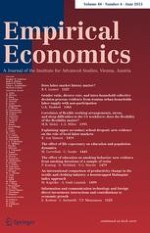 Correlates of flexible working arrangements, stress, and sleep difficulties in the US workforce: does the flexibility of the flexibility matter?
Zeitschrift:
Autoren:

M. Ryan Haley, Laurie A. Miller
Abstract
Using the 2008 National Study of the Changing Workforce, we study how two forms of flextime correlate with family stress, workplace stress, and sleep difficulties. The first flextime measure is the ability to easily take time off for personal and family matters, which correlates with a statistically and economically significant reduction in workplace stress. Subsequently, we find that this same flexibility is associated with 6–10 % reduction in the likelihood of self-reported sleep difficulties for the full sample, and as high as an 11–25 % reduction in a subgroup analysis concerning unmarried females with children. The second flextime measure is the option of a compressed workweek, which also correlates with a statistically reduction in workplace stress, though the estimate is considerably smaller than for the first flexibility; a subsequent analysis finds no statistically significant relationship between this flexibility and sleep difficulties. Our findings suggest that the more flexible flexibility (i.e., more short-notice schedule flexibility) appears to be associated with larger reductions in the probability of being stressed, enough, in fact, to carry through to noticeable improvements in concomitant sleep difficulties. Thus, the first form of flextime may function, based on this observational analysis, as a tangible non-medical way to meet worker flextime desires and firm aspirations for increased safety and less absenteeism, all while potentially offering a positive public health externality. The size and significance of the flextime results prevail through bias assessments and sensitivity analyses.