02.05.2019 | Original Paper:Fundamentals of sol–gel and hybrid materials processing | Ausgabe 2/2019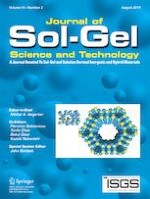 Correlation between calcination temperature and optical parameter of zinc oxide (ZnO) nanoparticles
Zeitschrift:
Autoren:

A. Sangeetha, S. Jaya Seeli, K. P. Bhuvana, M. Abdul Kader, S. K. Nayak
Wichtige Hinweise
Publisher's note:
Springer Nature remains neutral with regard to jurisdictional claims in published maps and institutional affiliations.
Abstract
This study endeavors toward the prediction of the relation between sol–gel process parameters and characteristics of zinc oxide (ZnO) nanoparticles in order to achieve the desired properties for various applications. ZnO nanoparticles were synthesized through the sol–gel method and calcined at various temperatures to study its influence on their characteristics. ZnO particles calcined at various temperatures were subjected to structural, morphological, and optical characterization. X-ray diffraction pattern exhibits the improvement in crystallinity of a hexagonal wurtzite structure of ZnO nanoparticles with an increase of calcination temperature. Micrographs and particle size analysis reveal that particle sizes are predominantly influenced by the calcination temperature, where a plate-like morphology at lower temperatures gradually transformed into complete nanorods at 700 °C, with the reduced agglomeration and wide particle distribution. The suppression in the intensity of blue and green emission in PL spectra at higher temperature suggests the reduction in zinc and oxygen vacancies. The disorderness (Urbach energy) was also observed to be decreasing with an increase in calcination temperature.
×