01.04.2019 | Metals | Ausgabe 13/2019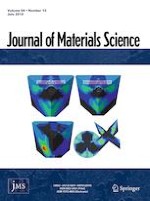 Correlation between homogenization treatment and subsequent hot extrusion of Al–Mg–Si alloy
Zeitschrift:
Autoren:

Shengwei Yuan, Liang Chen, Jianwei Tang, Guoqun Zhao, Cunsheng Zhang, Junquan Yu
Wichtige Hinweise
Publisher's Note
Springer Nature remains neutral with regard to jurisdictional claims in published maps and institutional affiliations.
Abstract
The homogenization treatment was conducted on an Al–Si–Mg alloy at various temperatures or holding times, and the subsequent hot extrusion experiments were carried out to clarify the correlation between homogenization conditions and the extruded microstructure. The results showed that the grain size of the as-cast billets was not affected by homogenization, while the coarse δ-Al(FeMnCr)Si particles dissolved and transformed into fine α-Al(FeMnCr)Si particles with a spherical shape. Moreover, during homogenization, the AlCuMgSi and Mg2Si phases completely dissolved into the Al matrix, and a large number of fine Mn-containing dispersoids precipitated. With increasing homogenization temperature or time, the extruded grains clearly became coarser, and the quantity of intermetallic particles continuously decreased. Notably, it was observed that the Mg2Si phase reprecipitated during the hot extrusion. Only the deformation textures existed in the alloy extruded from the billet homogenized at high temperature (570 °C) for long time (14 h), while both the deformation and recrystallization textures were found in other specimens. The homogenized billets exhibited a higher hardness and a better electrical conductivity than those of the as-cast billet, while the hardness was decreased and the electrical conductivity was improved after extrusion. Overall, both the tensile strength and elongation of the extruded alloys increased with increasing homogenization temperature or holding time. However, if the homogenization is performed at high temperature for long time, the strength of the extruded alloy is dramatically decreased.