05.02.2018 | Ausgabe 4/2018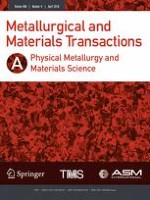 Correlation Between Intercritical Heat-Affected Zone and Type IV Creep Damage Zone in Grade 91 Steel
Zeitschrift:
Autoren:

Yiyu Wang, Rangasayee Kannan, Leijun Li
Wichtige Hinweise
Manuscript submitted April 14, 2017.
Abstract
A soft zone in Cr-Mo steel weldments has been reported to accompany the infamous Type IV cracking, the highly localized creep damage in the heat-affected zone of creep-resistant steels. However, the microstructural features and formation mechanism of this soft zone are not well understood. In this study, using microhardness profiling and microstructural verification, the initial soft zone in the as-welded condition was identified to be located in the intercritical heat-affected zone of P91 steel weldments. It has a mixed structure, consisting of Cr-rich re-austenitized prior austenite grains and fine Cr-depleted, tempered martensite grains retained from the base metal. The presence of these further-tempered retained grains, originating from the base metal, is directly responsible for the hardness reduction of the identified soft zone in the as-welded condition. The identified soft zone exhibits a high location consistency at three thermal stages. Local chemistry analysis and thermodynamic calculation show that the lower chromium concentrations inside these retained grains thermodynamically decrease their potentials for austenitic transformation during welding. Heterogeneous grain growth is observed in the soft zone during postweld heat treatment. The mismatch of strengths between the weak Cr-depleted grains and strong Cr-rich grains enhances the creep damage. Local deformation of the weaker Cr-depleted grains accelerates the formation of creep cavities.