15.05.2019 | Ausgabe 5/2019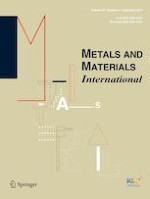 Correlation Between Primary Si and Silicide Refinement Induced by Ultrasonic Treatment of Multicomponent Al–Si Alloy Containing Ti, Zr, V, and P
Zeitschrift:
Autoren:

Jae-Gil Jung, Young-Hee Cho, Tae-Young Ahn, Jae-Hee Yoon, Sang-Hwa Lee, Jung-Moo Lee
Wichtige Hinweise
Publisher's Note
Springer Nature remains neutral with regard to jurisdictional claims in published maps and institutional affiliations.
Abstract
The correlation between primary Si and silicide refinement induced by ultrasonic treatment (UST) of multicomponent Al–Si alloy containing Ti, Zr, V, and P was investigated. UST significantly refined the primary Si phase owing to cavitation-induced wetting and deagglomeration of MgAl2O4 particles. Lowering the UST finish temperature caused deterioration of the degree of primary Si refinement, instead leading to silicide refinement. Cavitation-induced silicide nucleation on wetted MgAl2O4 consumed the MgAl2O4 particles, particularly in the case of primary Si nucleation. Similarly, the formation of an AlP phase on the silicide phase reduced the nucleation efficiency of the AlP phase. Poisoning of the MgAl2O4 and AlP phases by the silicide phase was responsible for the deterioration in primary Si refinement. Room-temperature tensile strength and high-temperature elongation were increased by UST and were dependent on the size of primary Si.