2015 | OriginalPaper | Buchkapitel
Correlation consistent, Douglas–Kroll–Hess relativistic basis sets for the 5 p and 6 p elements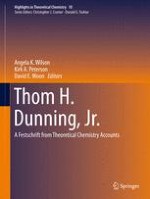 Erstes Kapitel lesen
Autoren: David H. Bross, Kirk A. Peterson
Verlag: Springer Berlin Heidelberg
New sets of all-electron correlation consistent triple- and quadruple-zeta basis sets have been developed for the 5
p
and 6
p
elements (In–Xe, Tl–Rn). For the 5
p
elements, the spin-free Douglas–Kroll–Hess (DKH) Hamiltonian truncated at second order was used, while for the 6
p
row, DKH3 was employed. The resulting cc-pVmZDK sets (m = T,
Q
) are designed to correlate the valence
ns
and
np
electrons, but both core–valence sets (cc-pwCVmZ-DK) for (n - 1)
spd
correlation and diffuseaugmented sets (aug-cc-pVmZ-DK) for weak interactions have also been included. Benchmark DKH CCSD(T) calculations were carried out on the atoms for their first ionization potentials and electron affinities. Coupled cluster calculations of the near-equilibrium potential energy functions of 18 selected diatomic molecules were also carried out to determine their spectroscopic and thermodynamic properties. These results are extensively compared to those obtained using the analogous aug-ccp( wC)VmZ-PP basis sets with their associated small-core pseudopotentials. For the quadruple-zeta quality basis sets, the mean unsigned differences were found to be just 1.4 mÅ for re, 0.7 cm-1 for xe, and 0.2 kcal/mol for
D
e with corresponding maximum differences of 4.8 mÅ, 4.3 cm-1, and 0.7 kcal/mol, respectively. Using all-electron DKH calculations with the present basis sets as corrections to the pseudopotential approximation appears to be most accurate when (n - 1)d correlation is considered in both cases using aug-cc-pwCVQZ quality basis sets. The new DK basis sets exhibit similar basis set convergence toward the complete basis set (CBS) limit as the PP-based sets and hence should find utility in all-electron [T,
Q
] basis set extrapolations.