04.01.2019 | Original Paper | Ausgabe 7/2019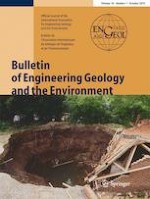 Correlations of in situ modulus of deformation with elastic modulus of intact core specimens and RMR values of andesitic rocks: a case study of the İzmir subway line
Autoren:

C. Kıncal, M. Y. Koca
Abstract
The main purpose of this paper is to obtain the rock mass rating (RMR) from different methods considering either the elastic modulus of intact rock specimens (
E
i
) and the modulus of deformation of andesitic rock mass (
E
M
) or only the value of the in situ modulus of deformation, and to compare these values. This paper also presents comparisons between the values of deformation modulus obtained from pressuremeter tests in andesitic rock mass and the values of elastic modulus of intact rock core specimens retrieved from the same boreholes and depths at which pressuremeter tests have been carried out. The pressuremeter tests were conducted on weathered and fractured andesites observed along the İzmir subway route. Correlations between in situ moduli of deformation gathered from 32 pressuremeter test points and calculated RMR values for the andesites at the railway elevation of the İzmir subway were obtained as follows:
E
MPT
 = 0.0237 × e
(0.0975 × RMR)
, R
2
 = 0.848 and RMR = 38.043 × 
E
MPT
(0.3291)
, R
2
 = 0.77. Finally, the results of comparisons between the modulus of deformation obtained from pressuremeter tests and the geomechanical quality of the rock mass, discontinuity effect, and the basic intact rock properties such as uniaxial compressive strength (UCS) and elastic modulus (
E
i
) have been discussed. In addition, engineering geological conditions of the andesitic rock masses located at the railway elevation of the İzmir subway were determined in detail.