04.05.2020 | Ausgabe 7/2020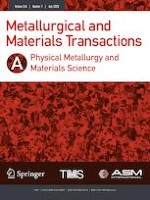 Corrosion Behavior of Ti-Si-B-C Nanocomposite Hard Coating with Different Si Contents on 4130 Steel
Zeitschrift:
Autoren:

Aparna Shukla, B. Sivakumar, S. K. Mishra
Wichtige Hinweise
Manuscript submitted February 24, 2020.
Publisher's Note
Springer Nature remains neutral with regard to jurisdictional claims in published maps and institutional affiliations.
Abstract
Microstructural, mechanical and electrochemical properties of a Ti-Si-B-C nanocomposite coating with different Si percentages on 4130 steel were investigated. All the films with different SI contents in the range of 10 to 12
µ
m thickness showed amorphous structures by X-ray diffraction. The hardness decreased with the increase of Si content in Ti-Si-B-C film. The particle size, pores, roughness and phases were responsible for the decrease of hardness with the increase of Si content. Electrochemical behavior is studied using open-circuit potential, impedance spectroscopy (EIS) and anodic polarization methods in 3.5 wt pct NaCl solution. The corrosion current density (icorr) was much lower, 0.45 to 2.34
µ
A/cm
2
, with varying Si content compared with uncoated steel (9.37
µ
A/cm
2
), and passivation behavior was observed during the polarization study. The EIS fit model suggested the presence of a duplex oxide layer on the Ti-Si-B-C nanocomposite coatings. The Ti-Si-B-C coatings with lower Si (24 pct) content showed the best corrosion resistance compared with higher Si content (36 to 52 pct). Overall, the present study suggests that the hard Ti-Si-B-C nanocomposite coating significantly improved the corrosion resistance of 4130 steel.