01.08.2012 | Symposium: Fatigue & Corrosion Damage in Metallic Materials | Ausgabe 8/2012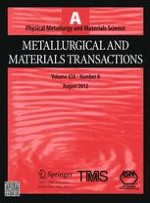 Corrosion-Fatigue Behavior of Aluminum Alloy 5083-H131 Sensitized at 448 K (175 °C)
Zeitschrift:
Autoren:

Ronald L. Holtz, Peter S. Pao, Robert A. Bayles, Thomas M. Longazel, Ramasis Goswami
Wichtige Hinweise
Manuscript submitted March 31, 2011.
Abstract
The fatigue crack growth behavior of aluminum alloy 5083-H131 has been systematically studied as a function of degree of sensitization for aging at 448 K (175 °C). Fatigue crack growth rates were measured at load ratios of 0.1 and 0.85, in vacuum, air, and a corrosive aqueous environment containing 1 pct NaCl with dilute inhibitor. Sensitization does not affect the fatigue crack growth behavior of Al 5083-H131 significantly in vacuum or air, at low- or high-load ratio. For high-load ratio, in the 1 pct NaCl+inhibitor solution, the threshold drops by nearly 50 pct during the first 200 hours of aging, then it degrades more slowly for longer aging times up to 2000 hours. The change in aging behavior at approximately 200 hours seems to be correlated with the transition from partial coverage of the grain boundaries by
β
Al
3
Mg
2
phase, to continuous full
β
coverage. ASTM G-67 mass loss levels below approximately 30 mg/cm
2
do not exhibit degraded corrosion-fatigue properties for
R
= 0.85, but degradation of the threshold is rapid for higher mass loss levels.