28.03.2019 | Ausgabe 4/2019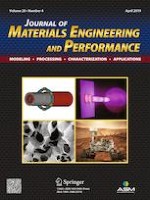 Corrosion Investigation of Zinc–Aluminum Alloy (ZA-27) Matrix Reinforced with In Situ Synthesized Titanium Carbide Particle Composites
Zeitschrift:
Autoren:

Roshita David, Vikas Shrivastava, Rupa Dasgupta, B. K. Prasad, I. B. Singh
Wichtige Hinweise
Publisher's Note
Springer Nature remains neutral with regard to jurisdictional claims in published maps and institutional affiliations.
Abstract
ZA-27 alloy matrix composites comprised of different volume fractions of TiC particles as reinforcement phase were synthesized by in situ technique. Microstructural, hardness and electrochemical analysis were performed on these samples along with the base ZA-27 alloy to assess any beneficial effect of making the composites over the base alloy. It was observed that hardness increases in composites as compared to the base alloy. However, hardness of the composite reduces on increasing the reinforcement percentage. Corrosion behavior was investigated by using Tafel and EIS plots in 3.5 wt.% NaCl solution at room temperature for all the samples. The results showed increase in corrosion resistance for composites than that of base alloy. However, ZA27 + 5%TiC composite showed better results as compared to that of ZA27 + 10%TiC composite. The decreased property of ZA27 + 10%TiC composite is because of the agglomeration of particles and also by the formation of galvanic cell.