11.11.2020 | Ausgabe 7-8/2020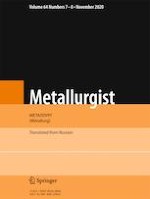 Corrosion Resistance Properties of a Nickel–Chromium Steel Bar in Marine Atmosphere
Zeitschrift:
Autoren:

Bingqiang Wu, Yuanhong Qi, Hemin Zhou, Zongshu Zou
Wichtige Hinweise
Translated from Metallurg, Vol. 64, No. 7, pp. 35–40, July, 2020.
The corrosion behaviors of Ni–Cr and 20MnSi steel bars in a simulated marine atmosphere are compared using alternate immersion corrosion tests and electrochemical techniques. The microstructure features are characterized using scanning electron microscopy (SEM) and X-ray diffraction (XRD). The electrochemical measurements and alternate immersion corrosion tests demonstrate that the Ni–Cr steel bar has a more positive potential (– 0.397 V), lower corrosion current density (28.19 μA/cm2), and better corrosion resistance at a corrosion rate of 3.81 g/(m2· h) and corrosion depth of 4.27 mm/g. There are inner and outer rust layers on the Ni–Cr steel bar, the inner layer being dense and bonded to the steel substrate. The α -FeO(OH)/γ -FeO(OH) ratio of the rust layer on the Ni–Cr steel bar is greater, which contributes to a more denser rust layer enhancing corrosion resistance.