Erschienen in: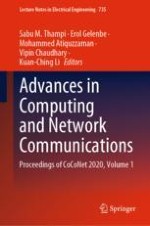 2021 | OriginalPaper | Buchkapitel
Cost-Effective Device for Autonomous Monitoring of the Vitals for COVID-19 Asymptomatic Patients in Home Isolation Treatment
Abstract
As the number of COVID-19 cases keeps growing exponentially in the world, the use of the combination of wearable technology and IoT technologies opens up a wide variety of possibilities. An IoT-enabled healthcare device is useful for proper monitoring of COVID-19 patients to increase safety and reduce spreading. The healthcare device is connected to a large cloud network to obtain desirable solutions for predicting diseases at an early stage. This paper presents the design of a healthcare system that makes use of these technologies in a cost-effective and intuitive way which highlights the application of these technologies in the battle against the pandemic. The wearable can give real-time analysis reports of body vitals so that necessary precautions can be taken in case of infection. The wearable is designed in such a way that it can be used as a precautionary measure for people who are not infected with the virus and as a monitoring device for affected patients during the curse of their treatment. This low-cost design can not only be used to prevent the community spread of the virus but also for the early prediction of the disease.