2004 | OriginalPaper | Buchkapitel
Could the Increase in Cancer Incidence be Related to Recent Environmental Changes?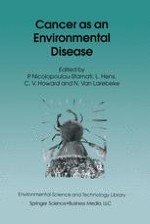 Erstes Kapitel lesen
Autoren: C. V. Howard, J. A. Newby
Verlag: Springer Netherlands
Enthalten in: Professional Book Archive
This chapter addresses the evidence available for assessing the incidence of cancer in pre-industrial societies. We conclude that cancer rates must have been very low in pre-industrial societies living traditional lifestyles, and this is considered in the light of the increasing average life expectancy experienced in industrialised societies during recent times. Cancer incidence rates are compared with the more widely reported 5-year mortality rates. Recent epidemiological evidence, from twinning studies, for the connection between human cancer and environmental factors is discussed.A major section of the chapter is devoted to examining scientific evidence of the feasibility that low dose exposure to environmental pollutants, during critical periods of development, may be able to cause cancer later in life. This includes reviewing a selection of papers involved with hormone disruption and non-genotoxic causes of cancer. We conclude that there is a feasible mechanism whereby current levels of intrauterine exposure to xeno-chemicals could be consistent with carcinogenesis.Finally, we comment on the public perception of cancer and on the widespread reporting practice of avoiding public discussion in the media of the rising incidence of cancer within the general population. An example of a recent press report is given. We further conclude that there is a need for improved public awareness of the increase of cancer in human societies, before there will be any demand for policies designed to lead to preventative measures.