01.10.2016 | Ausgabe 4/2016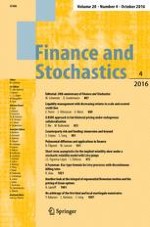 Counterparty risk and funding: immersion and beyond
Zeitschrift:
Autoren:

Stéphane Crépey, Shiqi Song
Wichtige Hinweise
This research benefited from the support of the "Chair Markets in Transition," Fédération Bancaire Française, of the ANR project 11-LABX-0019 and of the EIF grant "Collateral management in centrally cleared trading".
Abstract
In Crépey (Math. Finance 25:23–50,
2015
), a basic reduced-form counterparty risk modelling approach was introduced under a standard immersion hypothesis between a reference filtration and the filtration progressively enlarged by the default times of the two parties. This basic setup, with a related continuity assumption on some of the data at the first default time of the two parties, is too restrictive for wrong-way and gap risk applications, such as counterparty risk on credit derivatives. This paper introduces an extension of the basic approach, implements it through marked default times and applies it to counterparty risk on credit derivatives.