01.06.2015 | Ausgabe 4/2015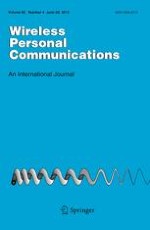 Coverage Self-Optimization for Randomly Deployed Femtocell Networks
Zeitschrift:
Autoren:

Qixun Zhang, Zhiyong Feng, Wei Li
Wichtige Hinweise
This work was supported by the National Natural Science Foundation of China (61201152, 61227801, 61421061), the National High Technology Research and Development Program of China (863 Program 2014AA01A707) and Key Laboratory of Universal Wireless Communications (KFKT-2013103).
Abstract
There is an ever increasing demand on wireless communication systems for improved indoor coverage, greater capacity and enhanced user services. Energy efficient, small scale femtocell networks deployed in home, office and other indoor environments are one of the promising means of satisfying these demands. They can provide substantial benefits to both operators and users, such as a reduction in capital expenditures and operational expenditures, easy plug-and-play and optimized indoor coverage. Because of the random deployment behavior by the users, femtocell base stations (FBSs) should have cognitive position awareness, automatic parameter tuning and learning abilities. This will allow for self-optimization of the indoor coverage with the minimal interference to outdoor users. This paper first proves that the optimal coverage radii for FBS exist in typical indoor environments with position awareness enabled technology. Then, a dynamic power allocation technique for FBS is designed and analyzed in this paper by considering the path loss and different wall penetration conditions. To further enable the intelligent coverage self-optimization for randomly deployed indoor FBSs, a novel joint dynamic power allocation and antenna pattern selection scheme using the artificial neural network is proposed. Performance results are presented to illustrate the effectiveness and accuracy of the proposed coverage technique for randomly deployed femtocell networks.