01.09.2013 | Ausgabe 9/2013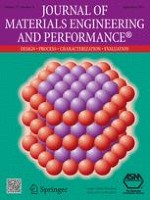 Crack-Growth Behavior of Laser Surface-Alloyed Low-Carbon Steel
Zeitschrift:
Autoren:

Roman Šturm, Matjaž Žnidaršič, Janez Grum
Abstract
Crack-growth behavior of Nd:YAG laser surface-alloyed as-received low-carbon steel Fe360B was evaluated. Thin surface layer was alloyed with silicon carbide SiC. During laser surface alloying process SiC powder dissolved in the melted pool. The surface-alloyed layer had as-solidified structure composed mainly of dendrites of ferrite, fine martensite needles, and retained austenite. The micro-hardness of the laser surface-alloyed layer was about 850 HV
0.1
. In laser surface-alloyed layer compressive residual stresses of average amount of
σ
RS
= −100 MPa were obtained. In crack-growth tests comparison between specimens of as-received low-carbon steel Fe360B and the same steel with laser-alloyed surface was made. As the crack propagation was perpendicular to the interface between the laser-alloyed layers and the base metal, laser surface-alloyed specimens exhibited higher crack-growth resistance in the low stress intensity factor range Δ
K
th
than as-received steel specimens.
Graphical Abstract
×