2018 | OriginalPaper | Buchkapitel
Crack Initiation—Propagation and Failure Modes in Rocks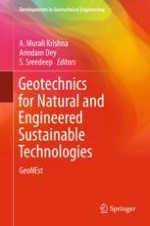 Erstes Kapitel lesen
Autoren: V. B. Maji, Sivakumar G.
Verlag: Springer Singapore
Abstract
Failure and fracturing occur in the rocks when the stresses exceed the threshold limit with the formation of micro-cracks. Subsequent coalescence of several micro-cracks forms a macro-crack leading to failure. The ultimate failure in rocks largely depends on the fracture process and corresponding failure mode. In the present paper, observations on the crack initiation and propagation based on the analysis of failure modes and fracture patterns are reported. Failure strength of the rocks varies with the failure modes and corresponding fracture patterns. Theoretical criteria for rock failure based on crack growth against experimental observations greatly advocated recent years. Moreover, numerical studies on crack initiation and propagation in rocks became very popular in the last decade. This paper presents the complex failure mechanism of rocks with details on crack initiation and propagation characteristics with pre-existing flaws. The study discusses different failure modes in brittle rocks through some laboratory investigation. This paper also discusses some of the numerical simulation results while analysing the crack growth.