2017 | OriginalPaper | Buchkapitel
Crisis, Leadership, and Extreme Contexts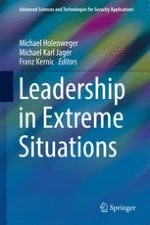 Erstes Kapitel lesen
Autor: Eric K. Stern
Abstract
Hannah et al. (Leaders Quart 20(6):897–919,
2009
) survey and integrate a substantial multi-disciplinary and multi-discourse body of literature—one strand of which is literature on crisis and crisis management—to address the challenge of understanding (and potentially improving) leadership in extreme contexts. This article attempts to build on the foundations set out by Hannah et al. (Leaders Quart 20(6):897–919,
2009
) by doing two things. First of all, it seeks to take a somewhat broader and deeper look at the evolving literature on crisis, crisis leadership, and crisis management in order to explore other aspects of possible relevance to the challenges identified by Hannah and his co-authors. Thus, the first objective is to examine the following question:
To what extent is the literature on crisis, crisis leadership and crisis management (CM) relevant to improving understanding of the challenges of leadership in extreme conditions (LEC)
? The second objective of the paper is to present some observations and reflections that might be helpful in further developing the LEC framework and research program. Core tasks of crisis leadership identified in the crisis literature (Boin et al. in The politics of crisis management: public leadership under pressure. Cambridge University Press, Cambridge,
2005, 2017
) such as preparing, sense-making, decision-making, meaning-making, and learning coincide to a considerable extent with, and draw on common or similar literature to, key themes in LEC. Furthermore, a number of other significant conceptual and empirical developments in the field of crisis studies are noted, suggesting additional potential avenues for enriching understanding—and broadening the applicability—of LEC.