2010 | OriginalPaper | Buchkapitel
16. Criteria for Designing Sewage Treatment Plants for Enhanced Removal of Organic Micropollutants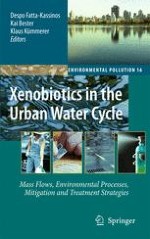 Erstes Kapitel lesen
Autoren: Francisco Omil, Sonia Suárez, Marta Carballa, Rubén Reif, Juan M. Lema
Verlag: Springer Netherlands
Abstract
This work addresses the problem of micropollutants removal in sewage treatment plants trying to identify the main factors influencing their fate and behaviour. Firstly the most significant groups of substances that are continuously emitted into the environment are presented and the physico-chemical properties and biodegradability of representative compounds are discussed. This information is crucial to understand the main removal mechanisms occurring in sewage treatment plants, such as sorption, biodegradation and chemical transformation, as well as the distribution pathways of micropollutants once released into the environment. Selected case studies are discussed to identify some key operational factors which influence the removal of these compounds, including the use of additives, temperature, biomass concentration and characteristics (microbial diversity, structure, etc.), as well as hydraulic and sludge retention time. A discussion focused on comparison of data corresponding to several configurations of activated sludge systems and membrane biological reactors is presented. So far, it is not clear how the type of technology affects micropollutants removal. A number of conclusions trying to explain the influence of different factors and some guidelines useful to enhance the removal of micropollutants in sewage treatment plants are presented.
Organic micropollutants refer to a wide group of carbon containing chemical compounds, mainly of xenobiotic nature, created by industrial processes either intentionally or as by-products, such as pharmaceuticals, personal care products, hormones, pesticides, brominated flame retardants, plasticizers, perfluorinated compounds, etc. Some of these substances are being considered for inclusion in the list of Persistent Organic Pollutants (POPs), i.e. compounds that are resistant to environmental degradation through biological, chemical or photochemical processes, thus capable of long-range transport, bioaccumulation in human and animal tissue, biomagnification in food chains, and exerting potential significant impacts on human health and the environment (Katsoyiannis and Samara
2007
; Clarke et al.
2008
; Stockholm Convention on Persistent Organic Pollutants
2009
). Moreover, a significant number of these substances, those defined as Endocrine Disrupting Compounds (EDCs), may exert estrogenic activity on various higher organisms (Kester et al.
2000
).
During the last decade, the focus of environmental research has been extended from the more "classic" POPs such as organochlorine pesticides or Polychlorinated Biphenyls (PCBs) to the so called "emerging contaminants" such as Pharmaceuticals and Personal Care Products (PPCPs). Recent advances in analytical techniques, mainly related to the increasing use of Liquid Chromatography (LC) coupled with Mass Spectrometry (MS), have enabled the possibility of determining a wide variety of micropollutants which, although denoted as "emerging" because information about occurrence is fairly recent, have been discharged into the environment along decades, mainly in water bodies (Ternes
2007
). That is the case of PPCPs or the most recently reported Perfluorinated Alkylated substances (PFAs), a large group of chemicals widely used to create inert surfaces for different industrial and consumer products since the 1950s, but recently detected in waste dumps or sewage (Clara et al.
2008
). Although these compounds are present at low concentrations, many of them raise considerable toxicological concerns, either as sole compounds or also when present as components of complex mixtures.
The objective of this chapter is to present the main removal mechanisms that take place throughout Sewage Treatment Plants (STPs), since municipal wastewaters represent a significant emission source of micropollutants (Neumann et al.
2002
; Joss et al.
2005
). Most of the existing units operate with variations of the well known Activated Sludge (AS) process. However, one innovative technology that is nowadays gaining popularity is the Membrane Biological Reactor (MBR). Postreatment methods, such as activated carbon or through ozone or advanced oxidation technologies, although very interesting as a polishing step leading to almost complete removal of these substances, can be considered as an "externality" of the common primary-secondary treatment, and are not discussed in this chapter.