01.03.2020 | Ausgabe 2/2020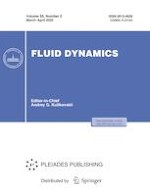 Critical Evolution of Finite Perturbations of a Water Evaporation Surface in Porous Media
Zeitschrift:
Autoren:

S. V. Gorkunov, A. T. Il'ichev, V. A. Shargatov
Wichtige Hinweise
Translated by E.A. Pushkar
Abstract—
It is shown that the approximate steady-state solutions, which satisfy the model dissipative equation that describes the process of water evaporation in the neighborhood of the instability threshold of a phase transition interface, determine localized damped finite-amplitude perturbations when a certain condition is fulfilled. These steady-state solutions can be used for forecasting the scenario of the development of a perturbation with sufficient accuracy if this perturbation has no common points with any steady-state solution. If the initial position of the phase transition front is located between the spectrally stable solution and any of the steady-state solutions, this front damps. If the initial position of the front is located above at least one of the spectrally unstable steady-state solutions, then the solution is catastrophically restructured.