01.03.2013 | Conceptual/Theoretical Paper | Ausgabe 2/2013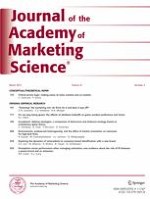 Critical service logic: making sense of value creation and co-creation
Zeitschrift:
Autoren:

Christian Grönroos, Päivi Voima
Abstract
Because extant literature on the service logic of marketing is dominated by a metaphorical view of value co-creation, the roles of both service providers and customers remain analytically unspecified, without a theoretically sound foundation for value creation or co-creation. This article analyzes value creation and co-creation in service by analytically defining the roles of the customer and the firm, as well as the scope, locus, and nature of value and value creation
.
Value creation refers to customers' creation of value-in-use; co-creation is a function of interaction. Both the firm's and the customer's actions can be categorized by spheres (provider, joint, customer), and their interactions are either direct or indirect, leading to different forms of value creation and co-creation. This conceptualization of value creation spheres extends knowledge about how value-in-use emerges and how value creation can be managed; it also emphasizes the pivotal role of direct interactions for value co-creation opportunities.