2015 | OriginalPaper | Buchkapitel
Cross-Over Study of Time Perception and Interface Design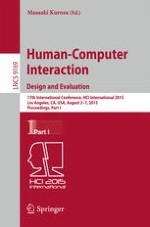 Erstes Kapitel lesen
Autoren: Huizhong Zhang, Guanzhong Liu, Hai Fang
Abstract
Pace of life is getting faster today, and it even affects the quality of people's life. Time is so important to human while it also troubles us a lot. Sometimes time seems so valuable that we take everything to earn more seconds. However, during a vacation, we ignore the passing of time. We are willing to consider what kind of pace of life can bring us more happiness. Time sense becomes an important experience in our daily life. This research is trying to improve our time experiences of interaction with interface design. As we know, people without specialized training cannot count time precisely without a clock, while they surely have an individual habit of perceiving time. Psychology of time is a psychology about human's time perception. Therefore, the research is a cross-over study of interaction and time psychology in terms of knowing how design can improve people's time experiences.
This study takes some time psychology theories as a foundation to know about the principles of human's perception of time. With the purpose of elevating the time experiences of people, three aspects are considered having effects on it: signal stimulus, time information processing and personal psychological condition.
Signal stimulus—human's perception of time always depends on some time signals, which are necessary materials of the brain processing. They could be numbers, visual dimensions, colors, temperatures, sound volumes, frequency of motion and so on.
Time information processing: several time processing models and calculative strategies of the time duration explain basic rules of processing time information in a human brain.
Personal psychological conditions: different time perceptions can trigger different emotions. And people in different moods can have different feelings about the same time interval.
In the study, the author summarized four possibilities to bring people better time experiences.
Following that, some assumptions in accordance with the research were made. Based on these assumptions, several experimental products, which are calendar design and traffic lights design, are designed. Finally, some experiments were conducted to test if the new designs can indeed create better time experiences. And one of the experiments would be reported in this article.