18.05.2020 | Research Article-Mechanical Engineering | Ausgabe 7/2020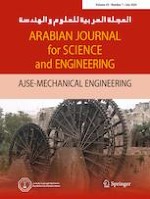 Crosswise Transport Mechanism of Micro-rotating Hybrid (Cu–Al2O3/H2O) Nanofluids Through Infusion of Various Shapes of Nanoparticles
Zeitschrift:
Autoren:

R. Tabassum, R. Mehmood
Abstract
The shape factor of nanoparticles and micro-rotation effects on steady, oblique flow of hybrid micropolar nanoliquid in two dimensions with the presence of viscosity variation is aimed to be analyzed in this study. This analysis is performed subject to the weak concentration of micro-elements. Model equations of the problem are converted to a non-dimensional set of highly nonlinear ODEs with employing appropriate transformations. This coupled system is afterward solved with shooting algorithm. Influence of viscosity parameter, material constant and nanoparticles shape factor on flow velocity profiles and temperature distribution is analyzed, discussed and presented graphically. The flow monitoring parameters are found to have profound effects on resulting profiles of skin friction and surface heat transfer rate. Shear stress at the surface is increasing with variable viscosity parameter
m
, while decreasing with material constant
K
. Blade-shaped nanoparticles are found to be most effective heat transfer agent in the present scenario.