2006 | OriginalPaper | Buchkapitel
Crustal Thinning and the Development of Deep Depressions at the Scotia-Antarctic Plate Boundary (Southern Margin of Discovery Bank, Antarctica)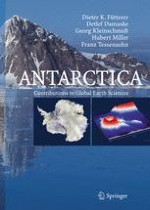 Erstes Kapitel lesen
Autoren: Jesús Galindo-Zaldívar, Juan Carlos Balanyá, Fernando Bohoyo, Antonio Jabaloy, Andrés Maldonado, José Miguel Martínez-Martínez, José Rodríguez-Fernández, Emma Suriñach
Verlag: Springer Berlin Heidelberg
Discovery Bank is located at the eastern end of the South Scotia Ridge. The new geophysical data point that this bank is continental in nature and may be a former fragment of the continental bridge that connected South America and the Antarctic Peninsula before the Oligocene and is located at the Scotia-Antarctic plate boundary along the South Scotia Ridge. In this region, continental fragments are bounded by the oceanic crust of the Scotia Sea to the north and of the Weddell Sea to the south. Seismicity indicates that at present active structures related to the plate boundary are located within the continental crust, whereas most of the continental- oceanic crust boundaries seem to be inactive.
The main crustal elements of the Scotia-Antarctic plate boundary at the region of Discovery Bank include, from north to south: the oceanic crust of the Scotia Plate, the Discovery Bank composed of continental crust, a tectonic domain with intermediate features, both in position and nature, between continental and oceanic crusts that includes the Southern Bank, and the oceanic crust of the northern Weddell Sea, which belongs to the Antarctic Plate.
The intermediate domain shows extreme crustal thinning and mantle uplift that are associated to the deep basins in all the MCS profiles, although we do not observe evidence of oceanic spreading. This domain was probably developed during the Late Cenozoic subduction of the Weddell Sea oceanic crust below the Discovery Bank and prior to the recent transcurrent tectonics. The complex bathymetry and structure of the plate boundary are a consequence of the presence of continental and intermediate crustal blocks. Deformation was preferently concentrated here, between the two stable oceanic domains.