2015 | OriginalPaper | Buchkapitel
Crutchfield Information Metric: A Valid Tool for Quality Control of Multiparametric MRI Data?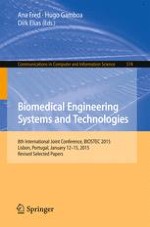 Erstes Kapitel lesen
Autoren: Jens Kleesiek, Armin Biller, Andreas J. Bartsch, Kai Ueltzhöffer
Abstract
We propose an information theoretic framework to automatically infer the physical relationship and asses the quality of multiparametric MRI sequences. The method is based on the Crutchfield information metric. This distance measure can be computed solely based on the voxel intensities. In a series of experiments we proof its usefulness. First, we show that given multiparametric MRI data sets it is possible to discover the physical relationship w.r.t. the acquisition parameters of the individual sequences. Next, we demonstrate that this relationship can be employed to perform a quality check of a large (
\(N=216\)
) data set by identifying faulty components, e.g. due to motion artifacts. Finally, we use a multidirectional diffusion weighted data set to confirm that the approach is fine grained enough to even detect small differences of diffusion vectors as well as the direction of the phase encoding of an echo planar imaging (EPI) sequence. Future work aims at transferring the preliminary results of these promising experiments into clinical routine and at standardizing MRI protocols for large scale clinical trials.