01.06.2015 | Ausgabe 6/2015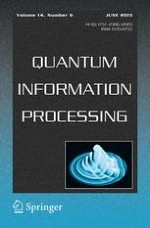 Cryptanalysis and improvement of a quantum communication-based online shopping mechanism
Zeitschrift:
Autoren:

Wei Huang, Ying-Hui Yang, Heng-Yue Jia
Abstract
Recently, Chou et al. (Electron Commer Res 14:349–367,
2014
) presented a novel controlled quantum secure direct communication protocol which can be used for online shopping. The authors claimed that their protocol was immune to the attacks from both external eavesdropper and internal betrayer. However, we find that this protocol is vulnerable to the attack from internal betrayer. In this paper, we analyze the security of this protocol to show that the controller in this protocol is able to eavesdrop the secret information of the sender (i.e., the customer's shopping information), which indicates that it cannot be used for secure online shopping as the authors expected. Accordingly, an improvement of this protocol, which could resist the controller's attack, is proposed. In addition, we present another protocol which is more appropriate for online shopping. Finally, a discussion about the difference in detail of the quantum secure direct communication process between regular quantum communications and online shopping is given.