31.03.2016 | Ausgabe 6/2016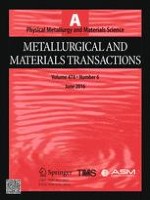 Crystal and Electronic Study of Neodymium-Substituted CuFeO2 Oxide
Zeitschrift:
Autor:

Osman Murat Ozkendir
Wichtige Hinweise
Manuscript submitted December 11, 2015.
Abstract
Neodymium-substituted CuFeO
2
samples were investigated according to their crystal and electronic properties
via
the general formula Nd
x
Cu
1−

x
FeO
2
. The crystal structure analysis results revealed polycrystalline formations in the sample and a change in crystalline sizes with the substituted heavy fermion "Nd." Increasing the Nd amount in the sample was determined to cause a disturbance on the Cu-Fe planes that supports the formation of crystal structures with low crystal symmetries such as monoclinic or triclinic geometries. To obtain the background mechanisms of the crystal properties, the X-ray absorption fine structure spectroscopy technique was used to study the electronic properties of the samples. Prominent changes in the crystal structures due to 4
f
electrons' contributions from the substituted Nd atoms as the main "role player" in the phase transitions were determined. The Nd atoms were observed as the key element guiding the entire phenomenon as a result of their large size and narrow 4
f
levels. Also, magnetic properties of the samples were tested at room temperature and without an applied magnetic field by X-ray magnetic circular dichroism study due to previous studies that reported the parent oxide CuFeO
2
to have magnetic ordering at
T
N
= 11 K (−262 °C). Except the sample for
x
= 1.0 (NdFeO
3
), no magnetic ordering was observed at room temperature;
i.e
., all of the samples showed paramagnetic behaviors.