01.02.2013 | Original Paper | Ausgabe 2/2013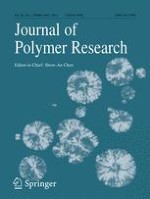 Crystalline-coil diblock copolymers of syndiotactic polypropylene-
b

- poly(ethylene oxide): synthesis, solution self-assembly, and confined crystallization in nanosized micelle cores
Zeitschrift:
Autoren:

Ran Liu, Zhi-Yun Li, Bi-Yun Mai, Qing Wu, Guo-Dong Liang, Hai-Yang Gao, Fang-Ming Zhu
Abstract
In this paper, two crystalline-coil diblock copolymers consisting of blocks of syndiotactic polypropylene (sPP) with different syndiotacticities ([rrrr]
sPP1
 = 0.78, [rrrr]
sPP2
 = 0.94) and poly(ethylene oxide) (PEO) were synthesized utilizing the click reaction of azide-terminated PEO (PEO–N
3
) with alkynyl-terminated sPP (sPP–C≡CH), which was obtained via the syndiospecific polymerization of propylene using fluorinated bis(phenoxyimine) titanium catalysts and further end-group transformation. All products and intermediates were characterized by nuclear magnetic resonance (NMR) spectroscopy and gel permeation chromatography (GPC). We probed the temperature-induced self-assembly of sPP-
b
-PEO in the solvent
N
,
N
′-dimethylformamide (DMF), which is selective for PEO. The self-assembly behavior and micellar morphology of each sPP-
b
-PEO were investigated by dynamic light scattering (DLS), transmission electron microscopy (TEM), and atomic force microscopy (AFM). Before sPP crystallization, the crystalline-coil diblock copolymers self-assembled into spherical micelles with an amorphous sPP core and a soluble PEO corona. Platelet-like micelles with a crystallized sPP core sandwiched between two solvent-swollen PEO layers then formed upon the crystallization of the sPP block. Furthermore, the confined crystallization of sPP within nanosized micelle cores was investigated by differential scanning calorimetry (DSC). An enormous degree of supercooling was observed during crystallization due to the homogeneous nucleation.