13.10.2016 | Symposium: Micromechanics of Advanced Materials III in Honor of J.C.M. Li | Ausgabe 12/2016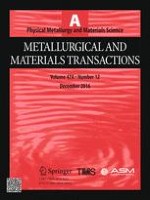 Crystallization in Fe- and Co-Based Amorphous Alloys Studied by
In-Situ

X-Ray Diffraction
Zeitschrift:
Autoren:

L. J. ZHANG, P. F. YU, H. CHENG, M. D. ZHANG, D. J. LIU, Z. ZHOU, Q. JIN, P. K. LIAW, G. LI, R. P. LIU
Wichtige Hinweise
Manuscript submitted December 29, 2015.
Abstract
The amorphous alloys, Fe
80
Si
20
, Fe
78
Si
9
B
13
, and Fe
4
Co
67
Mo
1.5
Si
16.5
B
11
, were prepared by the spinning method in pure argon. The crystallization behaviors of the three amorphous alloys were researched by
in-situ
X-ray diffraction (XRD), and the crystallization activation energy was calculated, based on the results of differential scanning calorimetry. The crystallization mechanism of the Fe- and Co-based alloys was analyzed, based on the experimental data. The transformation kinetics was described in terms of Johnson–Mehl–Avrami kinetics, except that the Avrami exponent of the Fe
78
Si
9
B
13
amorphous alloy annealed at 753 K (480 °C) was 4.12; the obtained values for the overall Avrami exponents of the other three amorphous alloys were below 1, as usually found for the Fe-Si amorphous alloys.