2015 | OriginalPaper | Buchkapitel
Crystallization of Domineering Snowflakes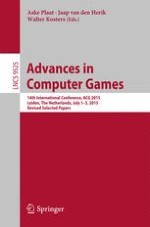 Erstes Kapitel lesen
Autor: Jos W. H. M. Uiterwijk
Abstract
In this paper we present a combinatorial game-theoretic analysis of special Domineering positions. In particular we investigate complex positions that are aggregates of simpler fragments, linked via bridging squares.
We aim to extend two theorems that exploit the characteristic of an aggregate of two fragments having as game-theoretic value the sum of the values of the fragments. We investigate these theorems to deal with the case of multiple-connected networks with arbitrary number of fragments, possibly also including cycles.
As an application, we introduce an interesting, special Domineering position with value
\(*2\)
. We dub this position the
Snowflake
. We then show how from this fragment larger chains of Snowflakes can be built with known values, including flat networks of Snowflakes (a kind of
crystallization
).