01.06.2015 | Ausgabe 2/2015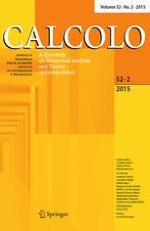 Cubature rules for harmonic functions based on Radon projections
Zeitschrift:
Autoren:

Irina Georgieva, Clemens Hofreither
Abstract
We construct a class of cubature formulae for harmonic functions on the unit disk based on line integrals over
\(2n+1\)
distinct chords. These chords are assumed to have constant distance
\(t\)
to the center of the disk, and their angles to be equispaced over the interval
\([0,2\pi ]\)
. If
\(t\)
is chosen properly, these formulae integrate exactly all harmonic polynomials of degree up to
\(4n+1\)
, which is the highest achievable degree of precision for this class of cubature formulae. For more generally distributed chords, we introduce a class of interpolatory cubature formulae which we show to coincide with the previous formulae for the equispaced case. We give an error estimate for a particular cubature rule from this class and provide numerical examples.