2018 | OriginalPaper | Buchkapitel
6. Cumulative Effects at the Catchment Scale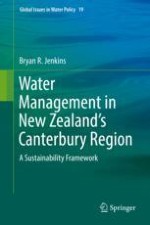 Erstes Kapitel lesen
Autor: Bryan R. Jenkins
Verlag: Springer Netherlands
Abstract
Two of the significant failure pathways at the catchment scale are the cumulative depletion of natural resources and cumulative degradation of the environment. These two crucial issues relate to the sustainability limits and cumulative effects of water extraction and use at the catchment scale. There is now water scarcity in Canterbury as the abstraction demands for human use exceed the biophysical capacity of the water resource system to regularly supply water. Supply/demand comparisons are made for run-of-river abstraction indicating lack of reliable supply. However annual comparisons indicate potential capacity but involve storage. Storage investigations indicate that there are limited opportunities for options that were environmentally and economically sustainable. Other investigations indicated the potential for greater water availability by more efficient use of currently allocated water. Consideration of failure pathways and a broader range of sustainability approaches led to an integrated water management strategy for Canterbury instead of a storage strategy.
The cumulative effects of water use comprise the impact on river flows (including flow variability) from abstraction; the management of groundwater zones; the effects on water quality from land use intensification (especially nutrients, bacterial contamination and sedimentation); and seawater intrusion.
One of the major challenges in water management where there are multiple potential failure pathways is the determination of the significance of different pathways when adverse effects occur. One example is the teasing out the respective contributions of climate variability (in particular historically low winter rainfall and hence low aquifer recharge) and increased groundwater abstraction to the decline in the aquatic health of groundwater-fed lowland streams.