Erschienen in: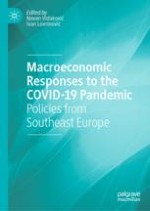 2021 | OriginalPaper | Buchkapitel
1. Current and Long-Run Challenges for the Croatian Economy, in Comparison
Abstract
Croatia has to overcome the longer-term challenges of the COVID-19 crisis, demographic decline, the functional specialization trap, as well as the digital and automation lag. Here, we analyze the economic development problems, as well as the challenges, in comparison with the country's peers in Central, East, and Southeast Europe. We offer related policy recommendations, which should have the potential to generate directly or indirectly public and private, domestic and foreign investment. These policies include the introduction of centralized wage bargaining, fiscal devaluations, an improvement of absorption capacities of EU transfers, the accession to the Euro and Schengen area, support for the Western Balkans' European integration process, improvements in the agricultural system and the industrial base, expansion of the fiscal space via the introduction of taxes for the rich, and import saving investment in human capital, housing, and green public transport for a better life for the younger generation.