16.11.2018 | Ausgabe 7-8/2018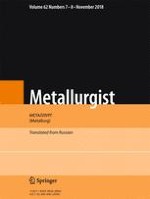 Current State, New Solutions and Prospects for Production of ESR Hollow Ingots in Russia
Zeitschrift:
Autoren:

L. Ya. Levkov, M. A. Kissel'man, D. A. Shurygin, I. A. Ivanov, A. S. Lesunov, A. V. Krasovskii
Wichtige Hinweise
Translated from Metallurg, Vol. 62, No. 8, pp. 19–28, August, 2018.
Domestic technological and design developments in the area of special electrometallurgy has made it possible to organize production of a wide range of hollow ingots by electroslag remelting (ESR). The properties of these metal ingots fully comply, and for a number of indices exceed, the specifications laid down for thermal and nuclear power plant objects. This makes possible to use them not only in a deformed but also in a cast condition. Results of theoretical and experimental studies of individual physical processes associated with assimilation of ESR for hollow ingots demonstrate new possibilities for controlling their quality and improving the economic efficiency of the production process. Methods are developed for controlling physical and structural heterogeneity of hollow ESR-ingots made from alloy steels with mutual movement of the ingot, consumable electrode (CE), and crystallizer, and also with the use of a reduced frequency alternating current.