2019 | OriginalPaper | Buchkapitel
Customer Engagement on Facebook: A Classification of Brand Fans: An Abstract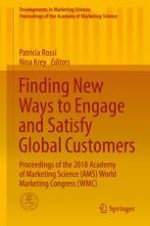 Erstes Kapitel lesen
Autoren: Tania Maree, Gené van Heerden
Abstract
This study explores customer engagement (CE) from the perspective of a Facebook brand fan community. CE is often viewed as the initial 'liking' of a Facebook brand page; however, this study includes a multi-item measure to operationalise CE.
Habibi et al. (2014) found that Facebook brand fans have a strong sense of community and thus feel obligated to contribute to the welfare of the community. Dessart, Veloutsou and Morgan-Thomas (2015) contend that social contexts beyond purchase—such as online brand communities—are the best contexts to study CE. Higher levels of CE with brands are expected in brand communities, and the connection between members within these communities collaborates with the aim to add value to the brand experience (Brodie et al. 2011; Hollebeek 2011).
Although various opinions regarding CE exist, there seems to be some agreement that it is a multidimensional construct. This study used a CE measurement operationalised by So, King and Sparks (2014), who defined CE as the interactive process of a personal connection to a brand. The scale consists of 25 items which originally resulted in a five-factor solution
.
Understanding and classifying brand fans on social network sites have been attempted by Wallace et al. (2014:92). They developed an exploratory typology of Irish student brand fans on Facebook. Our study aimed to explore if a similar fan classification would be found among adult South African Facebook brand fans and further explored if these groups differ with regard to CE.
A two-step cluster analysis was conducted after validation of the constructs, to determine if the same clusters arose as was the case with Wallace et al. (2014). The analysis included a total 493 respondents. One-way analysis of variance (ANOVA) was used to assess whether the four clusters differed significantly on the dimensions of CE. A two-factor solution for CE was found and labelled Captivation and Gratification. Our study found a similar fan classification as Wallace et al. (2014), namely, Fan-atics, Self-expressives, Utilitarians and Authentics.
The results aim to shed light for marketers within a community setting by proposing preliminary recommendations for effectively engaging with individuals through a Facebook brand fan page. Whilst still in the early stages of investigation, the results of this work in progress provide interesting insights with regard to various groups within a Facebook brand page as well as how these groups differ in terms of CE.
References Available Upon Request