2019 | OriginalPaper | Buchkapitel
Customer Experience Posting an Online Review and eWOM Intent: An Abstract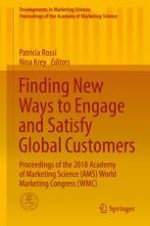 Erstes Kapitel lesen
Autor: Daria Plotkina
Abstract
The recent development of Internet communication platforms has caused electronic word of mouth (eWOM) to become an increasingly important source of information for consumers (Cheung et al. 2008). One type of eWOM is of particular consideration—online reviews. Previous research shows that online reviews impact customers throughout their purchasing experience, from attitudes to products (Lee et al. 2008) to the final product choice (Senecal and Nantel 2004). In other words, a customer experience with a product starts with consulting online reviews and ends with leaving feedback online. There are several motivations for publishing online reviews: platform assistance, venting negative feelings, concern for other consumers, extraversion, social benefits, economic incentives, helping the company, and advice seeking (Hennig-Thurau et al. 2004). Nonetheless, companies still struggle to foster useful and positive online reviews (King et al. 2014).
Due to their growing influence, online reviews are becoming increasingly relevant to marketers (Chen and Xie 2008). The empirically confirmed impact of reviews on consumers and the difficulty to obtain them have led companies to exploit malicious practices in online reputation management (Xiao and Benbasat 2011). These corporate practices aiming to manipulate opinions by posting deceptive content are referred to as fake reviews and have become alarmingly widespread (Mayzlin et al. 2014). Therefore, online review platforms have a difficult challenge of paramount importance to control the quality and authenticity of the published reviews.
As manual moderation of online reviews is time-consuming and often not effective (Masip et al. 2012), online review platforms turn to a more efficient method of automated filtering of malicious reviews (e.g., Mukherjee et al. 2013). However, every filtering method has an error, and the biggest risk of these filtering systems is to block authentic content and dissuade consumers from sharing real experience.
We carry out an online experiment to investigate the impact of customer experience with online reviews' filtering systems on customers' emotions and satisfaction with the product and the online platform, as well as their intention to continue publishing online reviews. The 219 respondents were asked to write an authentic review and were equally distributed among three experimental cells: (1) the review is accepted right away; (2) the review is required to be modified to conform to platform's rules and published after the modification; and (3) the review is rejected.
Our results show that reviewer's motivation defines his/her reaction to the automatic filter. Our contribution is twofold: first, we advance the literature on automated deception detection mechanisms and their use by online reviewing platforms and, second, we propose applicable managerial solutions to avoid losing authentic content and engaged customers.
References Available Upon Request