01.02.2011 | Originals Originalarbeiten | Ausgabe 1/2011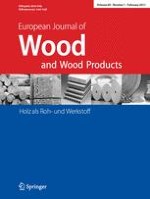 Cutting energy and surface roughness in medium density fiberboard rip sawing
Zeitschrift:
Autor:

Alfredo Aguilera
Abstract
Medium density fiberboard (MDF) is a wood based panel which main feature is the distribution of wood fibers, uniform and dense in the full panel thickness, allowing for very precise machining on the edges and in the faces of the board. However, and due to its manufacturing process, a density profile is produced with external layers being heavier than the core of the panel. These differences generate a variable surface quality across the panel when machined.
The tool characteristics and the cutting process kinematics also determine the resulting surface roughness of the processed material. With regard to the cutting energy, there are important variations when machining conditions are modified, or when some tool characteristics are changed.
The aim of this paper is to determine the cutting energy required to rip sawing MDF and to study its relationship with the resulting surface roughness across the panel profile when the density of the material changes.
The findings lead to the conclusion that there is a close relationship between cutting energy and surface roughness, being particularly sensitive to changes in specific gravity within the profile of the panel, and in particular to changes in cutting condition expressed as mean chip thickness.