01.04.2015 | Review Paper | Ausgabe 4/2015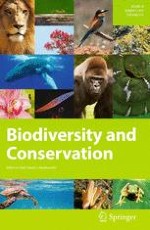 Cyanobacteria as bioindicators and bioreporters of environmental analysis in aquatic ecosystems
Zeitschrift:
Autoren:

Pilar Mateo, Francisco Leganés, Elvira Perona, Virginia Loza, Francisca Fernández-Piñas
Wichtige Hinweise
Communicated by Anurag chaurasia.
Abstract
Knowledge of the incidence of anthropogenic pressure on water ecosystems is one of the main focus of integrated water resource management. The use of biological methods to assess water quality is of particular importance since organisms show an integrating response to their environment. Tolerances or ecological ranges of individual species can differ depending on the taxon, which leads to distinct bioindicator values of cyanobacterial taxa. In addition, a number of morphological and physiological features are known to relate with the environment in which they occur, which makes them excellent environmental indicators. Therefore, we review literature data of the main cyanobacterial methods used to obtain information about changes in running water quality, mainly related to eutrophication processes, which are found as the main cause of disturbance in rivers, with the focus on benthic cyanobacteria, as habitat recommended for monitoring studies. Further, their trophic independence and ease of cultivation make them very useful in the field of bioreporters of environmental monitoring and ecotoxicology. In fact, several cyanobacterial strains have been already genetically engineered to construct bioreporters which respond to different types of pollutants as well as limiting nutrients. The potential of cyanobacteria both as in situ bioindicators as well as bioreporters of environmental analysis in aquatic ecosystems will be discussed.