01.04.2015 | Review Paper | Ausgabe 4/2015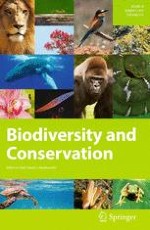 Cyanobacteria in mangrove ecosystems
Zeitschrift:
Autoren:

Danillo Oliveira Alvarenga, Janaina Rigonato, Luis Henrique Zanini Branco, Marli Fátima Fiore
Wichtige Hinweise
Communicated by Anurag chaurasia.
Electronic supplementary material
The online version of this article (doi:
10.​1007/​s10531-015-0871-2
) contains supplementary material, which is available to authorized users.
Abstract
Mangroves are subject to the effects of tides and fluctuations in environmental conditions, which may reach extreme conditions. These ecosystems are severely threatened by human activities despite their ecological importance. Although mangroves are characterized by a highly specialized but low plant diversity in comparison to most other tropical ecosystems, they support a diverse microbial community. Adapted microorganisms in soil, water, and on plant surfaces perform fundamental roles in nutrient cycling, especially nitrogen and phosphorus. Cyanobacteria contribute to carbon and nitrogen fixation and their cells act as phosphorus storages in ecosystems with extreme or oligotrophic environmental conditions such as those found in mangroves. As the high plant productivity in mangroves is only possible due to interactions with microorganisms, cyanobacteria may contribute to these ecosystems by providing fixed nitrogen, carbon, and herbivory-defense molecules, xenobiotic biosorption and bioremediation, and secreting plant growth-promoting substances. In addition to water, cyanobacterial colonies have been detected on sediments, rocks, decaying wood, underground and aerial roots, trunks, and leaves. Some mangrove cyanobacteria were also found in association to algae or seagrasses. Few studies on mangrove cyanobacteria are available, but together they have reported a substantial number of species in these ecosystems. However, the cyanobacterial diversity in this biome has been traditionally underestimated. Though mangrove communities generally host cyanobacterial taxa commonly found in marine environments, unique microhabitats found in mangroves potentially harbor several undescribed cyanobacterial taxa. The relevance of cyanobacteria for mangrove conservation is highlighted in their use for the recovery of degraded mangroves as biostimulants or in bioremediation.