01.01.2016 | Research Paper | Ausgabe 1/2016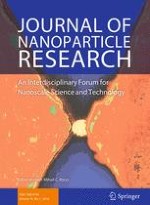 Cyclodextrin-grafted barium titanate nanoparticles for improved dispersion and stabilization in water-based systems
Zeitschrift:
Autoren:

R. Serra-Gómez, J. M. Martinez-Tarifa, J. González-Benito, G. González-Gaitano
Wichtige Hinweise
Electronic supplementary material
The online version of this article (doi:
10.​1007/​s11051-015-3321-x
) contains supplementary material, which is available to authorized users.
Abstract
Ceramic nanoparticles with piezoelectric properties, such as BaTiO3 (BT), constitute a promising approach in the fields of nanocomposite materials and biomaterials. In the latter case, to be successful in their preparation, the drawback of their fast aggregation and practically null stability in water has to be overcome. The objective of this investigation has been the surface functionalization of BaTiO3 nanoparticles with cyclodextrins (CDs) as a way to break the aggregation and improve the stability of the nanoparticles in water solution, preventing and minimizing their fast precipitation. As a secondary goal, we have achieved extra-functionality of the nanoparticles, bestowed from the hydrophobic cavity of the macrocycle, which is able to lodge guest molecules that can form inclusion complexes with the oligosaccharide. The nanoparticle functionalization has been fully tracked and characterized, and the cytotoxicity of the modified nanoparticles with fibroblasts and pre-osteoblasts cell lines has been assessed with excellent results in a wide range of concentrations. The modified nanoparticles were found to be suitable for the easy preparation of nanocomposite hydrogels, via dispersion in hydrophilic polymers of typical use in biomedical applications (PEG, Pluronics, and PEO), and further processed in the form of films via water casting, showing very good results in terms of homogeneity in the dispersion of the filler. Likewise, as examples of application and with the aim of exploring a different range of nanocomposites, rhodamine B was included in the macrocycles as a model molecule, and films prepared from a thermoplastic matrix (EVA) via high-energy ball milling have been tested by impedance spectroscopy to discuss their dielectric properties, which indicated that even small modifications in the surface of the nanoparticles generate a different kind of interaction with the polymeric matrix. The CD-modified nanoparticles are thus suitable for easy preparation of the water-based nanocomposites either as hydrogels or as nanocomposites based on thermoplastic matrices.
Graphical Abstract
×