2015 | OriginalPaper | Buchkapitel
Cystatin C Versus Creatinine in Evaluating Glomerular Filtration Rate in Renal Transplant Recipients with Proteinuria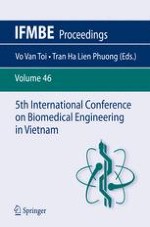 Erstes Kapitel lesen
Autoren: Tran Thai Thanh Tam, Hoang Khac Chuan, Du Thi Ngoc Thu, Nguyen Thi Thai Ha, Thai Minh Sam, Nguyen Thi Le, Tran Ngoc Sinh
Background: High grade proteinuria in allograft glomerular diseases is concerned with the reduced function and shortened survival of kidney allograft. Monitoring changes in glomerular filtration rate (GFR) by serum creatinine and cystatin C are the recommended methods for assessing the progression of kidney allograft function with proteinuria.
Materials and Methods: Sixty renal transplanted patients with allograft survival of at least 1 year, with proteinuria were included in the study. All patients had routine clinical care and underwent baseline including age, sex, weight, body mass index, serum creatinine (Scr), serum cystatin C (ScysC), urine creatinine, proteinuria at the same day. We established the correlation between creatinine clearance (mGFR) and serum creatinine and cystatin C, and the correlation between mGFR and four estimated GFR formulas (Cockcroft Gault, MDRD, CKD-EPI and Le Bricon formulas).
Results: The mean ScysC, Scr and mGFR were 1.49±0.51 mg/L, 1.26±0.25 mg/dL and 56.03±20.74 ml/min/1.73m
2
respectively. There were significant correlations between mGFR and 1/ScysC (r1=0.775 (p<0.000)) and mGFR and 1/Scr (r2 =0.754 (p<0.000)). There were significant correlations between the four methods of eGFR and mGFR (r = 0.801 to 0.875, p=0.000). Among them, CKD-EPI creatinin-cystatin C 2012 formula had the strongest correlation with mGFR in both groups with mGFR≥60ml/min/1.73m
2
and mGFR<60ml/min/1.73m
2
.
Conclusion:Serum cystatin C prove more useful in monitoring the function of kidney allograft with proteinuria compared to serum creatinine. The combination of serum creatinine and serum cystatin C (CKD-EPI creatinine cystatin C 2012) is more accurate than either marker alone for estimating GFR.