01.09.2014 | Original Article | Ausgabe 5/2014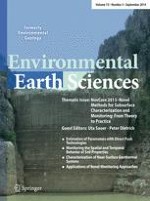 Cytotoxic and genotoxic evaluation and chemical characterization of sewage treated using activated sludge and a floating emergent-macrophyte filter in a municipal wastewater treatment plant: a case study in Southern Brazil
Zeitschrift:
Autoren:

Angélica Goldoni, Camila Golfeto, Jane B. Teixeira, Gislaine Blumm, Camila M. Wilhelm, Franko Telöken, Eloisa Bianchi, Jairo L. Schmitt, Günther Gehlen, Marco Antonio S. Rodrigues, Luciano Basso da Silva
Abstract
This study was conducted to evaluate the chemical parameters and the cytotoxic and genotoxic potential of raw domestic sewage and effluents from treatment with activated sludge and a floating emergent-macrophyte filter from a domestic wastewater treatment plant in the city of Novo Hamburgo, Rio Grande do Sul, Brazil. The physicochemical analysis revealed that both treatment systems achieved the legal emission pattern for biochemical oxygen demand, chemical oxygen demand, and suspended solids, but ammoniacal nitrogen and
E. coli
values were above the limits in the macrophyte treatment effluent. Phosphorous values were above the maximum permitted for both treatments. The results obtained from the
Allium cepa
test and the micronuclei test in fish did not demonstrate any significant differences in both cytotoxicity (mitotic index) and genotoxicity (chromosome aberration and micronucleus) endpoints between the negative control group and the exposed groups. However, the comet assay in fish revealed a DNA damage increase in animals exposed to the 30 % concentration of the macrophyte effluent and two concentrations of the activated sludge treatment effluent (10 and 75 %), which suggests that these two treatment systems may increase wastewater genotoxicity.