2017 | OriginalPaper | Buchkapitel
9. D″ Layer: Transition from the Lower Mantle to the Earth's Core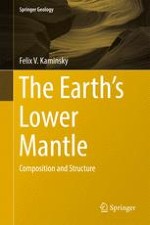 Erstes Kapitel lesen
Autor: Felix V. Kaminsky
Abstract
The Dʺ layer is a ~200 km layer at the bottom of the lower mantle (at ~2700–2900 km depth). It has low
S
-wave velocity gradients and increased scatter in travel times and amplitudes. Compositionally, there are two sources for the Dʺ layer: the oxide lower mantle and the outer core . Oxides from the lower mantle experience phase and physical changes within the Dʺ layer; the outer core delivers the metallic part to the Dʺ layer composition. The transformation of bridgmanite in post-perovskite , creating a 1–1.5% shear velocity increase, is the major effect for distinguishing of the Dʺ layer. Post-perovskite may incorporate 1–2 wt% H
2
O and thus may store significant amounts of hydrogen within the Dʺ layer. The transformation of bridgmanite in post-perovskite is accompanied with the transition of the orthorhombic CaCl
2
-structured SiO
2
in seifertite,
α
-PbO
2
-structured SiO
2
, resulting in a slight decrease in bulk sound speed by ~0.4% and shear wave decrease. Iron-rich liquid metal from the outer core (containing 5–10% light elements), namely C, N, O and Si infiltrates into the lowermost mantle and forms a series of native Fe
0
, iron carbides and nitrides, and silicon carbide. Of particular importance is the presence of Fe
7
C
3
and Fe
7
N
3
. When in association with diamond, these are the first solidus phases crystallizing from the metallic liquid in the D″ layer. The presence of iron nitrides in the Dʺ layer is closely related to their suggested presence in the inner core and helps to solve the problem of 'missing nitrogen ' in the Earth's nitrogen balance.