02.07.2018 | Energy materials | Ausgabe 20/2018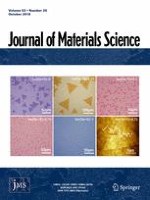 Dandelion-like α-MnO2 hollow spheres with superior catalytic performance for Li-O2 batteries by a facile in situ pyrolysis
Zeitschrift:
Autoren:

Chuanhua Li, Zhiyong Yu, Hanxing Liu, Linghua Kong
Wichtige Hinweise
Electronic supplementary material
Abstract
To reduce the severe overpotential of oxygen reduction and evolution reaction (ORR and OER) for rechargeable Li-O2 batteries, the dandelion-like α-MnO2 hollow spheres (HS) with high surface area (105.54 m2 g−1) were prepared by a facile in situ pyrolysis of manganese alkoxide for the first time. The ORR diffusion limiting current density and OER current density at 1.0 versus (Ag/AgCl)/V are 6.32 and 45.82 mA cm−2 at 1600 rpm in alkaline solution, respectively, indicating that dandelion-like α-MnO2-HS catalyst exhibits superior bifunctional catalytic activity. The Li-O2 batteries with α-MnO2-HS catalyst can yield high initial discharge specific capacity of 7897.6 mA h g−1 at 100 mA g−1. Moreover, the cycle life of Li-O2 batteries with α-MnO2-HS catalyst is significantly improved and can sustain 108 cycles. These results indicate that as-fabricated hollow sphere structure without adding any hard templates is favorable for superior bifunctional catalytic activity in aqueous and non-aqueous electrolyte.