2014 | OriginalPaper | Buchkapitel
32. Data Assimilation and Air Quality Forecasting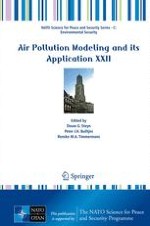 Erstes Kapitel lesen
Autoren: Henk Eskes, Renske Timmermans, Lyana Curier, Martijn de Ruyter de Wildt, Arjo Segers, Ferd Sauter, Martijn Schaap
Verlag: Springer Netherlands
Abstract
Lotos-Euros is a chemistry transport model developed in the Netherlands, and is used for air quality assessments and forecasts. Operational air quality forecasts for the Netherlands concerning ozone and PM10 are made available on the RIVM webpage (
http://​www.​lml.​rivm.​nl/​verw.​html
) and are used to warn the population in case of predicted exceedances of air quality standards. Lotos-Euros is also contributing to the model-ensemble based air quality forecasts for Europe (MACC project,
http://​macc-raq.​gmes-atmosphere.​eu/​index.​php?​op=​get
). Currently, the system is expanded to assimilate routine surface observations from European networks as well as satellite observations such as OMI NO
2
. The Ozone Monitoring Instrument (OMI) is a Dutch-Finnish instrument on the NASA EOS-Aura mission, and has a capability to detect boundary-layer NO
2
with a unique resolution of about 20 km. The assimilation in Lotos-Euros is based on the ensemble Kalman filter technique in which model parameters such as the NO
x
emissions, VOC emissions, PM sources, ozone boundary conditions and/or deposition velocities are adjusted to improve the comparison with the observations. In our contribution we will discuss the experiences with the assimilation of NO
2
tropospheric columns from the OMI instrument. In particular we will focus on the model-OMI comparisons over Europe, the analysis improvements, the analysed emissions and the impact of OMI NO
2
data assimilation on other constituents such as ozone.