18.04.2021 | Ausgabe 2/2021 Open Access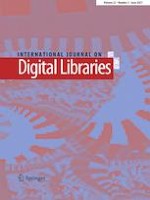 Data-Seeking Behaviour in the Social Sciences
Zeitschrift:
Autoren:

Thomas Krämer, Andrea Papenmeier, Zeljko Carevic, Dagmar Kern, Brigitte Mathiak
Wichtige Hinweise
Publisher's Note
Springer Nature remains neutral with regard to jurisdictional claims in published maps and institutional affiliations.
Abstract
Purpose
Publishing research data for reuse has become good practice in recent years. However, not much is known on how researchers actually find said data. In this exploratory study, we observe the information-seeking behaviour of social scientists searching for research data to reveal impediments and identify opportunities for data search infrastructure.
Methods
We asked 12 participants to search for research data and observed them in their natural environment. The sessions were recorded. Afterwards, we conducted semi-structured interviews to get a thorough understanding of their way of searching. From the recordings, we extracted the interaction behaviour of the participants and analysed the spoken words both during the search task and the interview by creating affinity diagrams.
Results
We found that literature search is more closely intertwined with dataset search than previous literature suggests. Both the search itself and the relevance assessment are very complex, and many different strategies are employed, including the creatively "misuse" of existing tools, since no appropriate tools exist or are unknown to the participants.
Conclusion
Many of the issues we found relate directly or indirectly to the application of the FAIR principles, but some, like a greater need for dataset search literacy, go beyond that. Both infrastructure and tools offered for dataset search could be tailored more tightly to the observed work processes, particularly by offering more interconnectivity between datasets, literature, and other relevant materials.