2019 | OriginalPaper | Buchkapitel
Day Program for Patients with Brain Injury with Constraint Induced Movement Therapy for Upper and Lower Limbs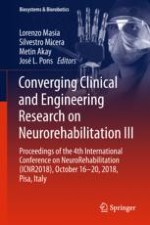 Erstes Kapitel lesen
Autoren: Yvona Angerova, Petra Sladkova, Olga Svestkova
Abstract
CIMT (Constraint Induced movement Therapy) is based on two basic principles. Forced used of the affected extremity by restraining the unaffected extremity and massed practice of the affected extremity. We have introduced special day program with CIMT for people after brain injuries on our department.
Method: 16 patients with hemiparesis due to brain injury were involved in program with lower limbs (Group A) and 16 patients in program with upper limbs (Group B). They had good cognitive functions to understand and follow the tasks. They had activities using CIMT principles for 6 h a day for four weeks (from Monday to Friday). The evaluation of the effect was done using standardised functional.
Results: The results are very promising. 14 patients in each group finished the programme, almost all of them were much better after the programme, 85% were better even after three and six months after finishing it.