01.06.2011 | Synopsis | Ausgabe 4/2011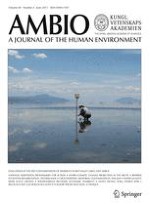 DDT Strikes Back: Galapagos Sea Lions Face Increasing Health Risks
Zeitschrift:
Autoren:

Juan José Alava, Sandie Salazar, Marilyn Cruz, Gustavo Jiménez-Uzcátegui, Stella Villegas-Amtmann, Diego Paéz-Rosas, Daniel P. Costa, Peter S. Ross, Michael G. Ikonomou, Frank A.P.C. Gobas
Wichtige Hinweise
This synopsis was not peer reviewed.
As most marine mammals, Galapagos sea lions do not escape from the global contamination by POPs and other chemical assaults, including oil spills (Fig.
1
). Persistent organic pollutants have the capacity to bioaccumulate in marine food webs, resulting in the biomagnification of these contaminants in high trophic level predators such as marine mammals, as shown in Fig.
1
. To start documenting the response of tropical wildlife to an increased use in DDT, we measured DDT concentrations in blubber biopsy samples collected from endemic and endangered Galapagos sea lion pups (
Zalophus wolleabeki
; Fig.
2
) of the Galapagos Islands, located at 1,000 km offshore from continental Ecuador, in 2005 (
n
= 21 pups) before the 2006 WHO recommendation and in 2008 (
n
= 20 pups) after the WHO recommendation (Alava et al.
2011
); we also conducted a risk assessment of the health impacts of DDT concentrations and its main metabolite
p,p′
-DDE by comparing the detected concentrations in pups against toxic effect reference values documented in the literature as documented elsewhere (Alava
2011
; Alava et al.
2011
).
...