2010 | OriginalPaper | Buchkapitel
Deadly Glue — Adhesive Traps of Carnivorous Plants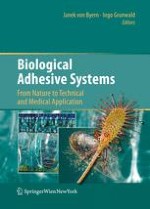 Erstes Kapitel lesen
Autoren: Wolfram Adlassnig, Thomas Lendl, Marianne Peroutka, Ingeborg Lang
Verlag: Springer Vienna
Carnivorous plants trap and utilize animals in order to improve their supply with mineral nutrients. One strategy for prey capture is the use of adhesive traps, i.e., leaves that produce sticky substances. Sticky shoots are widespread in the plant kingdom and serve to protect the plant, especially flowers and seeds. In some taxa, mechanisms have been developed to absorb nutrients from the decaying carcasses of animals killed by the glue. In carnivorous plants
sensu stricto
, additional digestive enzymes are secreted into the glue to accelerate degradation of prey organisms.
The glues are secreted by glands that are remarkably uniform throughout all taxa producing adhesive traps. They follow the general scheme of plant glandular organs: the glands consist of a stalk, a neck equipped with a suberin layer that separates the gland from the rest of the plant, and the glandular cells producing sticky secretions. This glue always forms droplets at the tip of the glandular hairs. In most genera, these glands produce only glue whereas enzymes for prey digestion are secreted by a second type of gland. Two types of glue can be distinguished, polysaccharide mucilage in Droseraceae, Lentibulariaceae and their relatives, and terpenoid resins in Roridulaceae. On the ultrastructural level, mucilage is produced by the Golgi apparatus. Resins can be expected to be produced by the endoplasmic reticulum and by leucoplasts.
Adhesive traps are suitable not only for the capture of small animals but also for the collection of organic particles like pollen grains. The glue may contain toxic compounds but the prey usually dies from suffocation by clogging of its tracheae. In
Pinguicula
and
Drosera
, the performance of the traps is improved by a slow movement, i.e., the folding of the leaf around the prey animal upon stimulation. In some species of
Nepenthes
, a pitcher with smooth walls is filled with a sticky digestive fluid. Some organisms, however, have developed strategies to survive on the deadly traps. Several species of Hemiptera are able to walk on the sticky traps and nourish on the prey; their faeces are absorbed by the plant. In
Roridula
, this relationship is highly specialized and essential for both the plant and the insect. Mutualistic fungi and bacteria are common in many adhesive traps where they degrade and dissolve the plant's prey. The traps of
Drosera
, on the other hand, are virtually sterile.
In spite of the extensive literature on adhesive traps, numerous questions still remain. Only a small percentage of "sticky" plants have actually been tested for carnivory. The properties and composition of their glues are widely unknown. In advanced adhesive traps, the mechanisms regulating secretion and absorption are poorly understood. Thereby, some glues may be applicable for human as they are non-toxic, quite stable under environmental conditions, and partly exhibit mildly antibiotic properties. Some carnivorous plants with adhesive traps have been used by humans for the capture of insects as well as for food processing.