2018 | OriginalPaper | Buchkapitel
12. Decision Making for Sustainability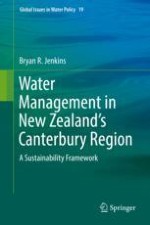 Erstes Kapitel lesen
Autor: Bryan R. Jenkins
Verlag: Springer Netherlands
Abstract
The traditional approaches of planner-led technical decision making and process-led legal decision-making had not been effective in resolving water management issues in Canterbury. Technical processes did not address the diverse range of stakeholder concerns while legal processes led to unresolved conflicts. Collaborative governance approaches were adopted which relied on community engagement to develop the Canterbury Water Management strategy (CWMS) .
Strategic Choice
was adopted as a decision-making methodology to deal with multi-criteria, multi-stakeholder decision-making characterized by urgency and uncertainty within a collaborative approach. Rather than relying on the analysis of environmental effects for assessing options, a sustainability appraisal framework was adopted for evaluating economic, environmental, social and cultural criteria for both outcome achievement and negative impacts.
When resource availability is constrained and cumulative effects of development exceed environmental quality limits, there are significant shortcomings in current effects-based approaches to water resource decision making. Further resource extraction or water use for any new development, even with minor adverse effects will exacerbate an already unsatisfactory situation. There is a need for outcome based approaches to keep overall resource extraction and impacts of use within sustainability limits .